SOLD
4-zone RTC LA-310 production / lab processing furnaces
The RTC LA-310 is a high-temperature controlled atmosphere furnace with a 9.5 inch wide belt. The 310x models feature (4) 7.5-inch zones in a 30-inch long 1000C heating chamber. LA-310x furnaces are controlled by an Opto22 controller with a windows comupter interface.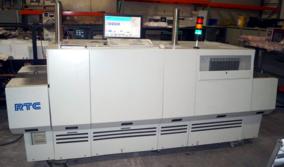 Computer Controlled Lab IR furnace, 9.5-inch wide belt x 2-inch high throat (parts clearance), 4-zone, 208V, 3ph.
CDA, Nitrogen or Forming Gas* ready.
Mfg: 2001 (less than 500 hrs on this furnace).
(RTC 32672 sn 1303100101, RGL 14020) ev17-101
Click for video: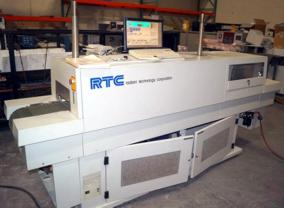 Computer Controlled Lab IR furnace, 9.5-inch wide belt x 2-inch high throat, 4-zone, 208V, 3ph. CDA, Nitrogen or Forming Gas* ready.
Mfg 1998. (Less than 4200 hours on meter)
(RTC 32520 sn 1310039804, RGL 14661) ev17-102
Click for video:

RTC S-615 6-Zone 15" Belt Thick Film Furnace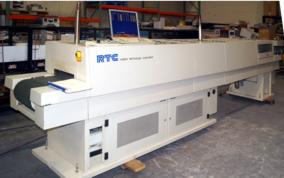 1000C Computer operated IR furnace
6-Zone, 2" throat height, 2-40 ipm belt speed.
60" Heating chamber
30" Closed atmosphere air cooling + 30" fan cooled.
Process gases: CDA, Nitrogen, or FG* ready.
33.7kW, 208V, 3PH, 120A.
Footprint: 200" L x 32.5" W
Mfg 09/95.
(FO 32041, sn 1415069501 RGL 14662) ev17-103
Click for video: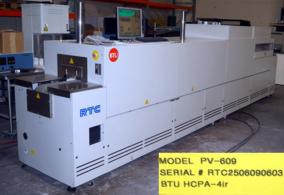 RTC PV-609 Infrared Solar Cell Processing Furnace
We have one RTC PV-609 infrared solar cell processing furnace in the warehouse, available for immediate shipment. 1000C IR 6-Zone, 9" wide belt, 60 inch heating chamber with 0.75-inch throat (product clearance). Zones 1 & 2 are each 15 inches long, zones 3-6 are each 7.5 inches long. Each furnace is optimized for paste burn-out, metallization firing in the 750-950C range and BSF layer processing to achieve high-efficiency solar cells through RTP (Rapid Thermal Processing).
Belt width: 9 inches
Product clearance: 0.75 inches
Belt speed: 22-220 ipm
Electrical: 208 Vac, 3-ph
Manufactured by RTC for BTU in 2006.
(BTU-RTC PV609 FO45003 sn 2506090603, RGL 14634) ev17-104
Click for video:

Rebuilt SPECIAL RTC LA-306 Compact Production/Lab IR Furnace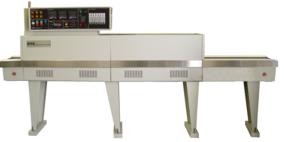 This is an exceptional refurbished RTC LA-306 6-inch belt furnace. This singular furnace is configured with an extra long exit entension adding 30 inches to the product Unload station and to the overall length of the furnace. The furnace chamber includes brand new insulation for 1000C operation, new plenums for CDA, nitrogen or forming gas* operation. The control system is brand new and includes our latest PLC driven discrete digital control system and new motor/encoder. This furnace now features our latest feedforward feedback locking belt speed technology. New electrical system is designed for 208-415 Vac, 3phase.
Manufactured out of aircraft aluminum, the CACT cooling tunnel is also brand new. Perfect for thick film, annealing, solder reflow and dental lab applications. (LCI sn 13008 ev17-105).
Includes bound color manual. Click to view on-line manual and links to video library.
Click for comprehensive technical details & drawings.
Click for video:

Refurbished CU-915 Low O2 4-Zone Production/Lab IR Furnace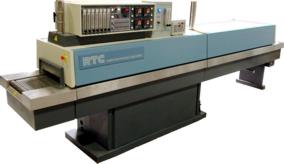 Refurbished RTC CU-915 IR furnace with Illinois Instruments Oxygen analyzer and 3-port sampling system. This 15-inch belt furnace has a 4-zone, 60-inch heating chamber with new sophisticated independent digital temperature controllers. Newly added cooling baffles in the transition to increase cooling capabliity. Also can accommodate 3 process gases for dual gas or single gas operation (CDA only, N2 only, or N2/FG).
Originally manufactured in 1985, this furnace was refurbished in 2015 for use on a special project. All new lamps, belt, digital controllers, belt speed indicator, dual thermocouples installed in 2015-2016. A new drive motor will be installed in 2017 for 4-75 ipm belt speed.
The operating manual CH1 Equipment Description for this furnace is located here (FO 15-003). See it operating here. Please contact us if you are are interested in this furnace. ev17-106
Like New 2015 TP Solar TF-618 Thick Film Processing Infrared Furnace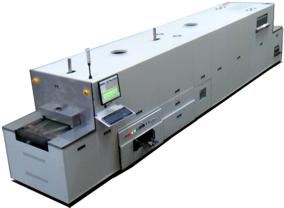 Newly manufactured in 2015 for a special project, this furnace features the TP Solar split casing design which allows the top of the heating chamber to be raised above the chamber bottom by wired remote while the furnace is down for maintenance.
This 1000C 18-inch belt furnace was designed for low oxygen processing with a 3-port sampling system and built-in Illinois Instruments EC-913 analyzer system for sampling furnace chamber gas. One extra port is provided for use of a auxiliary analyzer.
Connect up to 3 process gases simultaneously. The PLC control system is designed for computer switching between combinations of CDA, Nitrogen and Forming Gas* (FG<4.5% Hydrogen). Furnace chamber has 2" clearance height above the 18" wide belt. Heating chamber is 4-zone, 60 inches long. The furnace has 90 inches of water cooling followed by fan cooling section. The furnace chamber has 4 quartz ports in the top of each zone for a IR temperature measureing devices.
SPECIFICATIONS (click for more details)
1000C 18-inch belt x 2" throat height, <8 ppmv O2 operation.
4-zone, 60"L heating chamber, 8-80 ips belt speed.
90" Water cooling + 47.5" Fan cooled section.
O2 analyzer with 3-port sampling system.
Connect 3 gases simultaneously: CDA, N2 and FG*
Advanced computer control system (click for details).
Motorized chamber separation.
Stainless steel inlet collector to capture noxious gases.
Lamp failure detection system (computer integrated).
380-480Vc, 3PH. Footprint: 240" L x 50" W.
Detailed Owner's Manual. Click here to view Ch 0 Equipment Description.
(FO15004, sn 2015260 ev17-107)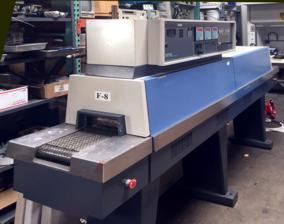 Compact laboratory furnace. 1000C, 3-Zone, 6-inch wide belt x 2-inch high throat. 29-inch long heating chamber, 40-inch cooling. CDA, Nitrogen and/or Forming Gas* ready.
All original equipment. Independent Eurotherm zone controllers.
13.5kW, 208V, 1Ph.
(RTC LA-306 sn 1306038723, FO16488 ev17-108)
*FG - Forming Gas must be a non-flammable hydrogen/nitrogen mix (less than 5% hydrogen in nitrogen).