New LA-309N Furnace with SENSLAS installed in Russia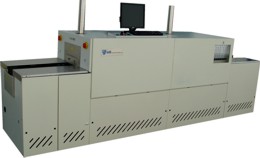 ORANGE, CALIFORNIA, USA. LCI furnces completed fabrication of a new 4-zone LA-309 Production Laboratory furnace for installation by FurnacePros in Rostov-on-Don in the Russian republic near the Black Sea. This furnace was designed and built in 2-sections to allow it to be conveyed in a standard freight elevator to the facility 3rd floor.
The furnace featured SENSLAS, Laser Product Alert System, using state-of-the-art laser technology and adjustable audible chime. ev13-10
New LA-306 with Entrance and Exit Unload Staion extensions and SENSLAS shipped to China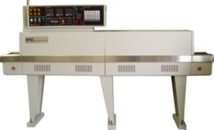 ORANGE, CALIFORNIA USA. RTC LA-306 IR furnaces are rebuilt will LCI Furnaces latest control system. For the first time, LA-306 furnaces can be ordered for 3-phase installation, lowering operating cost by a third. The furnaces are controlled with new sophisticated independent digital temperature controllers and protrammable logic controller (PLC).
Please contact us if your are interested in a rebuilt standard LA-306 furnace. ev12-11
LA-310 Computer/Controller Upgrades for less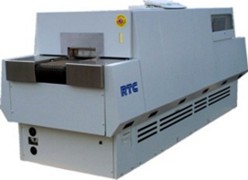 ORANGE, CALIFORNIA, USA February 2012. Standard and Dental RTC LA-310 IR belt furnaces benefit from computer upgrades. Low cost reliable computers are installed with updated software, Window7 operating system, wireless networking and RAID1 reliability.
In most cases old recipes are compatible with the latest furnace control software and except for new trending features, little is required in the way of training. New LCD monitor, keyboard and mouse, and network cables complete the install. ev12-01
S-Series Hydrogen Furnace Commissioned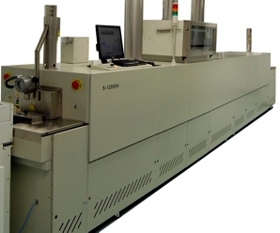 ORANGE, CALIFORNIA, USA October 2011. Start up of a new LCI S-1209XH Hydrogen infrared furnace exhibited oxygen levels in key sections of the furnace chamber controlled to less than 10 ppmv. The continuous belt infrared furnace was designed to provide a controlled atmosphere as specified and adjusted via on-board Hydrogen/Nitrogen mixing. The system includes an integrated sample system monitoring both oxygen and moisture. A new mode switching provision allows the furnace to be economically operated in a Nitrogen Only mode upon lockout of the hydrogen supply.
Improved design recirculating water cooling system drops the product temperature from over 750°C in the furnace to less than 90°C. Custom product handling guides and SMEMA product tracking provide upstream and downstream equipment with "furnace available" and "board available" signals as well as receiving "ready to receive" signal from downstream equipment. The furnace system was built-to-order and started up by FurnacePros in southern Califonia by factory team members from our Orange and Los Gatos locations. ev11-06