SAVE with Cost-Effective Updates to Your Existing RTC IR Furnace
RTC Infrared Furnaces are built to last. However, after the 10 year mark they certain parts begin to age and some control system components may no longer be available. Purchase of new equipment may not be the best use of your capital or best option for your bottom line. Contact us for alternative cost effective long-term production line solutions.
Maintenace Departments. Plant maintenance techs can give us a call with problems, symptoms or concerns and we can help identify calibration procedures, preventative maintenance or recommend parts to assure 99%+ equipment availability. Our web support page provides plant furnace techs access to RTC IR furnace technical notes, calibration instructions and operating tips to assure furnace reliablity and process repeatablility. Check back for frequent updates.
Motor Speed Control. Change the speed of your furnace with a gearing package or eliminate low speed shudder with our MCC Isolation board kit.
Computer. Furnace computers are the component with the lowest reliability of your furnace system. In addition computers have the greatest exposure to obsolescence. We offer robust RAID1 computer and computer/controller upgrades that often will allow users to continue to use existing recipes while adding USB profiling ports and wireless-N connectivity for remote troubleshooting and diagnostics. The latest software provides a familiar interface, but with improved graphics and features.
Conveyor Belts and Rollers. Exchange worn, damaged or dirty belt or rollers with a factory original replacements.
Replace Thermocouples and/or IR heating lamps. Over time lamp characteristics may change and thermocouples begin to degrade. Infrequent, but periodic replacement of IR heating elements and thermocouples with factory original equipment assures that your furnace is performing at peak into its second and third decade.
Chambers and Cooling Systems. Replacement chamber and or cooling sections can be ordered for plug-'n-play replacement of damaged sections.
Contact us for pricing and details at info@furnacepros.com or 714.935.0302 x250. If you provide the furnace model and serial number we can look up your furnace original configuration and offer suggestions for extending the life of our furnace.
Add options or features not originally installed such as oxygen or moisture sampling or product tracking. See our extensive list of Optional Equipment.
---
LA-310 Computer/Controller Upgrades for less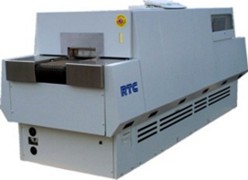 ORANGE, CALIFORNIA, USA February 2012. Standard and Dental RTC LA-310 IR belt furnaces benefit from computer upgrades. Low cost reliable computers are installed with updated software, Window7 operating system, wireless networking and RAID1 reliability.
In most cases old recipes are compatible with the latest furnace control software and except for new trending features, little is required in the way of training. New LCD monitor, keyboard and mouse, and network cables complete the install. ev12-01
S-1209XH Hydrogen Furnace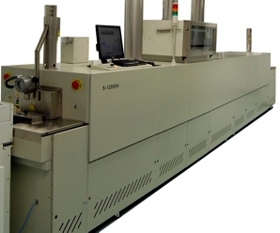 Commissioned
ORANGE, CALIFORNIA, USA October 2011. Start up of a new
S-Series Hydrogen infrared furnace exhibited oxygen levels in key sections of the furnace chamber controlled to less than 10 ppmv. The continuous belt infrared furnace was designed to provide a controlled atmosphere as specified and adjusted via on-board Hydrogen/Nitrogen mixing. The system includes an integrated sample system monitoring both oxygen and moisture. A new mode switching provision allows the furnace to be economially operated in a Nitrogen Only mode upon lockout of the hydrogen supply.
Improved design recirculating water cooling system drops the product temperature from over 750°C in the furnace to less than 90°C. Custom product handling guides and SMEMA product tracking provide upstream and downstream equipment with "furnace available" and "board available" signals as well as receiving "ready to receive" signal from downstream equipment. The furnace system was built-to-order and started up by FurnacePros in southern California by factory team members from our Orange and Los Gatos locations. ev11-06