S-910 upgrade adds life to vintage RTC Furnace

LOS GATOS, CALIFORNIA, October 2010. Built in 1991, this Radiant Technology Corp. RTC S-910 furnace received a complete overhaul at a nominal cost: New lower elecricals and controls including new Safety Panel, Power Distribution Panel (PDP on right) and Element Monitor Panel (far left), SCR Panel, PLC panel, thermocouples and Dell Optiplex 780 RAID1 computer and control console. The panels were manufactured at FurnacePros factory in Orange County and delivered and installed on site in 5 days in northern California by factory team members from our Orange and Los Gatos locations. The furnace moisture analyzer and sampling system was upgraded as well. This upgrade will likely add over 15 years operating life to the robust RTC manufactured furnace. ev10-07
FurnacePros Adds to its RTC Furnace IR Lamp Inventory
CALIFORNIA, September 2010. FurnacePros now offers original OEM lamps for all major RTC IR furnace models. Low prices on the correct lamps for 4 inch, 6 inch, 9/10, 14/15, 24, 36 and 48 inch model RTC brand furnaces. Almost all sizes now in stock. Lamps ship 1-3 days from receipt of full payment. Call (949) 218-4996 or email parts@furnacepros.com for best pricing and availibility. Case quantities qualify for further discount. ev10-06
RTC S-910 Furnace Refurbished with new Electricals and Control system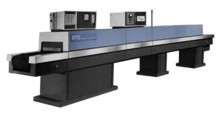 COLORADO, August 2010. Economically purchased on eBay by our customer proved a cost effective way to increase capacity. The RTC furnace was delivered to our factory in Orange, California where our engineers and technicans stripped it of all its wiring and controls. Brand new electricals were assembled and installed changing the 208 Vac to specified 480 Vac operation and our updated isolated motor control panel. New PLC controls with updated ProControl(TM) software were installed on our standard Optiplex platform with RAID1 dual drives.
N2/FG Mode Control. The latest ProControl software incorporates the ability to switch from all Nitrogen operation to Forming Gas mode delivering both nitrogen and Forming Gas (N2/H2 blend). In the Forming Gas mode, the primary gas (nitrogen or CDA) is delivered to exhaust eductors and cooling chambers while all baffles and furnace chambers and plenums switch to Forming Gas. The N2/Forming Gas selection can be stored with each process recipe reducing operator error.
AutoGas Shutoff. The furnace was shipped with the new Auto Gas Shutoff feature to further save cost and process gas consumption by closing down all gas systems in the absence of the operator after proper cool down is reached. ev10-05
LA-309 Furnace delivered to Rome, Italy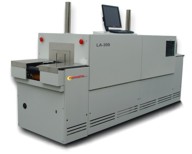 ROME, ITALY, July 2010. FurnacePros delivered a 3 zone LA-309 furnace for a specialty application in Rome. The LA-309 furnace features 1000C capacity, oxygen analzyer sampling and alarm system for all three furnace zones, edge heaters and dual N2/CDA gas with Nitrogen delivered to all furnace heating chambers, lamp plenums and cooling sections, and clean dry air (CDA) delivered to exhaust eductors. This furnace also included the new Auto Gas Shutoff option which assures process gas is flowing when needed and automatically shuts of the supply lines upon furnace OFF after proper cool down is achieved. ev10-04.
RTC LA-310 Furnace in Norway upgraded to ProControl version 10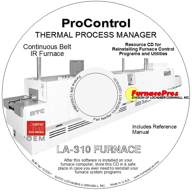 NORWAY, March 2010. FurnacePros provided troubleshooting of existing furnace controller and interface hardware and software. Ultimate fix was to replace a faulty board an install the latest version of ProControl correctly configured for the RTC LA-310 furnace located in Norway. ev10-03
ProControl ver. 10 Furnace Control Software Released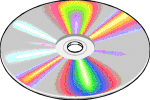 March 2010. The latest release includes a number of minor code fixes including fixing UCD blank time fields. In addition, many screens are updated and graphics improved. The supplied disc includes restore programs for reinstalling the software without over-writing customer password and maintenance customizations, as well as password and maintenance program resets to factory settings.
ProControl can be configured and installed as an upgrade for all Opto22 PLC based RTC furnaces, ovens and dryers. Furnaces with older control systems can often be easily upgraded to new controls if new lower electricals are installed at the same time. ev10-02
ALERT! RTC 36 inch IR Furnce Lamps Discontinued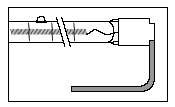 February 2010. The manufacturer of the lamps announced that they will no longer make production runs of the lamps used in RTC, GBT and FurnacePros 36 inch furnaces.
The affected RTC part number is: 306-093319-36
Ushio part number: QIH480-3600RT2
Lamp Specifications: 480 Vac, 3600 W, 114 cm (44.8 inches) long.
The following furnaces, dryers and ovens are affected: AG-1536, AG-1536X, C-936, C-936X, D-1536, D-1536X, D-1836, D-2136X, D-2736, D-336, D-636, D-636XE, D-936X, S-2136, S-636, S-636X, S-936.
We have a number of these lamps in stock, but will not be able to sell any more once they are gone. A number of machines can be operated with a substitute lamp. Call us with your RTC furnace model number and serial number if you have concerns or wish to purchase some of the last remaining inventory. ev10-01