14752 Laboratory Box Furnace
Carbolite GPC 12/65
S/N: xxx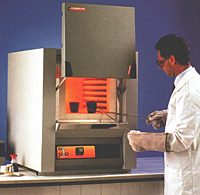 General Purpose Chamber Furnace
Features
Rugged construction for heavy-duty heat treating requirements.
High power free radiating side heating elements provide fast heat-up and enhanced chamber uniformity.
Vertical lift door design keeps hot door insulation away from operator.
Low thermal mass insulation improves energy efficiency and fast heat-up rates.
Hard ceramic hearth provides excellent resistance to wear and spillage.
Long-life heavy gauge coil heating elements.
Chamber vent provides for process exhaust.
Dense refractory around chamber entrance resists abrasion and wear.
Positive break door safety switch isolates power to the heating elements when door is opened.
Low outer case temperature provided through double shell construction.
Small case size conserves bench space.
Application examples
Aging; Annealing;
Curing; Firing / Sintering; Foundry or Melting Furnace;
Heat Treatment;
Laboratory; Debonding, Digestion, Ignition Test
Burn-off processes which create a lot of fumes. Melting different kinds of glass which emit aggressive gases.
Carbolite GPC 12/65

Under-Power Video
Ready To Ship!
1200°C Peak Operating Temperature
1100°C Maximum Continuous
14 kW, Fast 40 minute heatup
23.4" W 15.3" L x 11" H ID (65 liters)
30.7" W x 37.2" W x 34.8" H OD