We still have two 4-zone RTC LA-310 production / lab processing furnaces.
The RTC LA-310 is a high-temperature controlled atmosphere furnace with a 9.5 inch wide belt. The 310x models feature (4) 7.5-inch zones in a 30-inch long 1000C heating chamber. LA-310x furnaces are controlled by an Opto22 controller with a windows comupter interface. ev17-01
RTC PV-609
We have one RTC PV-609 solar cell IR processing furnace in the warehouse, available for immediate shipment. ev17-02
Call or email us for technical details on these furnaces.
---
IR LAMPS
CLICK HERE and SAVE on Original OEM IR Lamps for your LCI or RTC furnace
Original OEM Infrared Lamps for RTC furnaces (Exclusive, only available from LCI FurnacePros). ev17-03
Rebuilt SPECIAL LA-306 Compact Production/Lab IR Furnace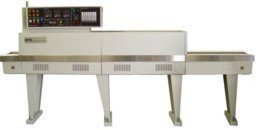 ORANGE, CALIFORNIA, USA September 2017. We currently have an exceptional refurbished RTC LA-306. This singular furnace is configured with an extra long exit entension adding 30 inches to the product Unload station and to the overall length of the furnace. The furnace chamber includes brand new insulation for 1000C operation, new plenums for CDA, nitrogen or forming gas operation. Manufactured out of aircraft aluminum, the CACT cooling tunnel is also brand new. Perfect for thick film, annealing, solder reflow and dental lab applications.
Please email info@furnacepros.com if you are interested in this furnace. ev17-04
Refurbished CU-915 Low O2 4-Zone Production/Lab IR Furnace
Refurbished RTC CU-915 IR furnace with Illinois Instruments Oxygen analyzer and 3-port sampling system. This furnace has a 4-zone, 60-inch heating chamber with new new sophisticated independent digital temperature controllers. Newly added cooling baffles in the transition to increase cooling capabliity. Also can accommodate 3 process gases for dual gas or single gas operation (CDA only, N2 only, or N2/FG).
Originally manufactured in 1985, this furnace was refurbished in 2015 for use on a special project. All new lamps, belt, digital controllers, belt speed indicator, dual thermocouples installed in 2015-2016. A new drive motor will be installed in 2017 for 4-75 ipm belt speed.
The operating manual CH1 Equipment Description for this furnace is located here (FO 15-003). See it operating here. Please contact us if you are are interested in this furnace. ev17-05
---
Previously Owned TP Solar TF-618 Infrared Furnace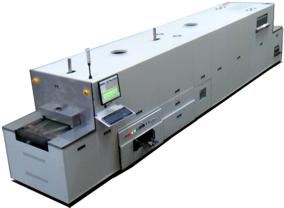 Newly manufactured in 2015 for a special project, this furnace features the TPS split casing design which allows the top of the heating chamber to be raised above the chamber bottom by wired remote while the furnace is down for maintenance.
This 1000C furnace was designed for low oxygen processing with a 3-port sampling system and built-in Illinois Instruments EC-913 analyzer system for sampling furnace chamber gas. One extra port is provided for use of a auxiliary analyzer (aux analyzer and sample pump by owner).
Connect up to 3 process gases simultaneously. The PLC control system is designed for computer switching between combinations of CDA, Nitrogen and Forming Gas (FG<4.5% Hydrogen). Furnace chamber has 2" clearance height above the 18" wide belt. Heating chamber is 4-zone, 60 inches long. The furnace has 90 inches of water cooling followed by fan cooling section. The furnace chamber has 4 quartz ports in the top of each zone for a IR temperature measureing devices.
The operating manual Ch0 Description for this furnace is located here (FO 15-004). Please contact us if you are are interested in this furnace. ev17-06