VPBIR 1800 Autobreaker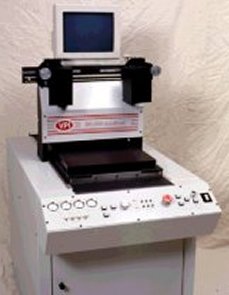 Description
The VPBIR-1800 AutoBreaker is a semi-automatic, high-speed breaker system for LCD panels orsingle sheet substrates. VPI's innovative breaking technology incorporates " tuned impact" , utilizinga precise, digitally controlled breaker technology to extend the scribe through the glass. The results are exceptionally consistent, high quality after-break dimensional tolerances, with what customers have termed, "The Best Yields in the Country."
This fully programmable AutoBreaker features adjustable breaking parameters to individually characterize each break. This meansstrips less than 4.0mm (0.160" ) wide are possible.A recent customer comment indicated that VPI BR-1800 is their " method of choice, especially with TFT LCD's."
The VPI BR-1800 AutoBreaker is controlled by a Pentium® microprocessor with user-friendly operator interface, and is designed for high volume production breaking. The AutoBreaker is fully compatible with all current VPI Scribers and can receive the breaking data directly from the FAST-24 and GS-310 (Series) Precision Scribers.
Specifications
Performance:
High Speed
Semi Automatic
Increased Productivity

Quality:
World Renowned VPI Quality
Tuned Impact
User Friendly

Reliability:
Rugged Design
Proven Components

Value:
Price Performance
Short Term ROI
Excellent Yield
Specifications for Application Of LCD Laminates & Single Substrate Breaking
| | | |
| --- | --- | --- |
| Description | Metric | English |
| Maximum Substrates: | 465 mm x 465 mm | 18" x 18" |
| Electrical Requirements: | 230 Vac, 800 W, 1 Ph, 50 Hz | 120 Vac, 800 W, 1Ph, 60 Hz |
| Air or Nitrogen: | 5.5 Bar | 80 PSI |
| Vacuum: | 63.0 cm Hg | 25 in Hg, 5 CFM |
| Weight: | 270 kg | 600 LB |