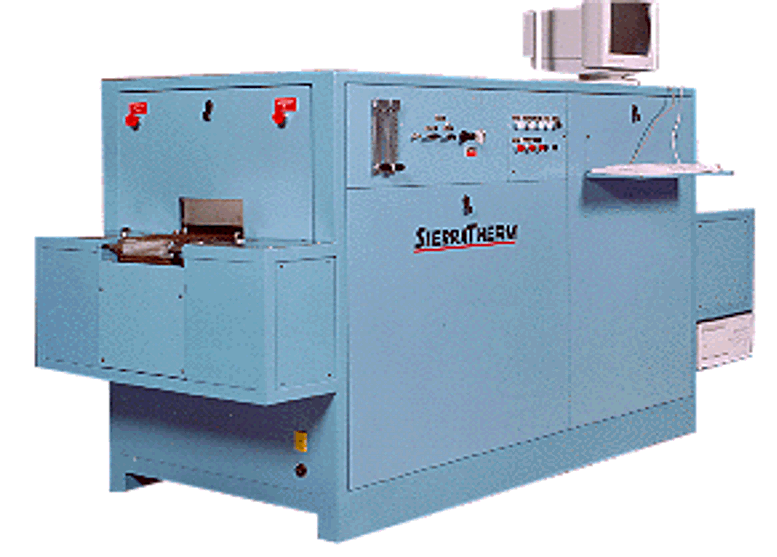 SierraTherm 4500 Series
Conveyor Dryers & Curing Ovens
The SierraTherm 4500 Series Conveyorized Drying Ovens are available as free standing units or they can be attached in-line to a high temperature series furnace for pre-dry before firing. The 4500 series are rated for temperatures to 300° C for applications such as Thick Film Ink drying, Epoxy Curing, and any other low temperature process.
Advantages
Super efficient power-saving insulation reduces energy bills.
Innovative atmosphere distribution and management eliminates thermal shock.
Vigorous extraction of burn-off effluents across entire chamber width improves yields.
Integrated burn-off condensate entrapment/collector inhibits process contamination.
Stable, unsurpassed temperature uniformity control ensures consistent "firing" results.
Air or Nitrogen atmospheres.
Included as standard equipment on the 4500 Series is the powerful and convenient Windows-based MicroTherm PC Control, Profiling, and Monitoring System, first developedand introduced by SierraTherm in 1992.
PERFORMANCE SPECIFICATIONS
Maximum Temperature Rating: 250° C
Normal Operating Temperature: 100° C - 250° C
Cross-Belt Temperature Uniformity: ± 3.0° C
Energy Consumption: Typically 10-20% of connected load at typical 250° C profile
Over temperature Protection: Redundant over temperature protection in all zones
Cooling Modules: free and forced Convection/Conduction. Both air and water available as standard equipment.
Atmosphere System: Adjustable gas inlets for uniform flow distribution across entire chamber width. Directional gas flow control.
Power Supply: 200/240 Volts, 3 Phase, 50-60 Hz
Clearance Above Conveyor Belt: 2.0 in. (51 mm)
Belt Speed Range: 2-20 IPM
Drive System: Microprocessor controlled, closed loop, digital feedback, ± .01% accuracy, mechanical belt slip clutch.
Control System: MicroTherm Windows based PC Control System. Pentium PC, super VGA 14" color monitor, 9 port time-temperature part profiler, SPC data logging and historical display, on-line help manual.
Exhaust System: 2" diameter, air powered venturi exhauster. Full chamber width exhausting. Removable condensate collection trap. Exhaust gas flow monitor and control.