Trident
Zoom Inspection Microscope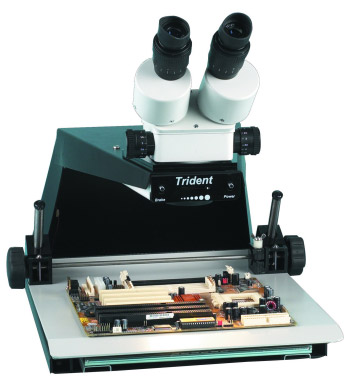 Pricing and Options
Large Format 3 Dimensional Positioning Table
Optional Oblique Angle Viewer for 360 Degree Side Angle View of Objects
Precision Optics Provide Stereo Zoom Magnification from 6X - 45X
Trinocular Version Available for Video and Photographic Imaging
Built-in Variable Halogen Illumination
Single Switch Table Lock Mechanism
The new Trident is an innovative high resolution stereo zoom inspection microscope designed for a wide range of professional and industrial applications. Precision optics offer unlimited zoom magnifications from 6.5x through 45x and up to 225x with the optional lenses and eyepieces. The revolutionary 3 Dimensional X-Y-Z Positioning Table adds the ability to reposition specimens vertically allowing the user to freely move up and down through different layers without refocusing or repositioning the user's head. The operator can reposition the specimen in 3 dimensions while holding onto a single control knob. Unlike conventional inspection microscopes that only offer stages designed for small specimens, the Trident is designed to handle a wide variety of large circuit boards and other specimens. A convenient button allows the user to lock the table in position when desired.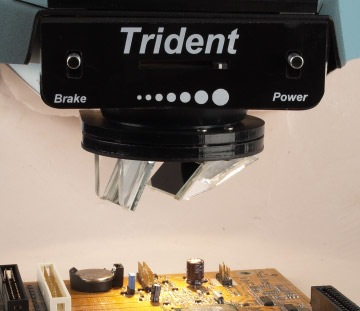 Enlarged Oblique Angle View
See what you've been missing with a traditional microscope that limits you to a straight down view. Trident sets a new industry standard for microscope inspection by offering an optional Oblique Angle Viewer. Now in addition to the traditional straight down view, Trident owners can view an object at an angle, from the side or at any point 360 degrees around an object.
The standard model features variable halogen illumination. A trinocular head model is available to provide a variety of options for photography and video image capture. With its various options, superior zoom optics, and broad field of view, the VTI Trident is an excellent choice for the most demanding inspection environments. Additional Features:
Interpupillary adjustment for distance between eyes
Diopter adjustment for difference in sight between eyes
10X Wide Field eyepieces with Rubber Eye Guards
Working Distance: 95mm
Field of View: 6X 32mm, 45X 4.5mm
Optional 15X, 20X and 25X eyepieces are available
Optional 1/2X Lens will double field of view
Variable Halogen Light: 12 V, 20 W
Users Manual, Super Protective Fitted Foam Packaging
Limited One (1) Year Warranty
Trident - Stereo and Trinocular Zoom Inspection Systems
Pricing
| PartNumber | Description | Retail Price | Shipping |
| --- | --- | --- | --- |
| TB1000 | Binocular - Base, Head 10X Eyepieces | $1,795.00 | $45.00 |
| TT1000 | Trinocular - Base, Head 10X Eyepieces | $2,095.00 | $45.00 |
| TT1C00 | Trinocular w/Camera - Base, Head 10X Eyepiece Camera Tube w/ 1/2" Lens | $2,795.00 | $45.00 |
| TT1C14 | Trinocular w/ Camera & 14" Monitor Same as above w/14" Sony Video Monitor | $3,495.00 | $55.00 |
Trident System Optional Accessories:
Pricing
PartNumber
Description
Retail Price
Shipping
TT0C00
Color High Resolution Camera Package
$895.00
AV2394
Oblique Angle Viewer
$519.00
TEFOLS
Fiber Optic Light Source
$419.00
TERLGO
Fiber Optic Ring Light Guide - Includes Threaded Adapter
$419.00

FG9999

USD Video Frame Grabber w/Software (Needs WIN: 98/2000/NT/SP)
$149.00
MS1400
14" Sony Trinitron Color Video Monitor (SSM-145NU)
$560.00