Rebuilt SPECIAL RTC LA-306 Compact Production/Lab IR Furnace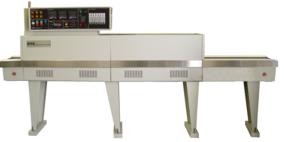 This is an exceptional refurbished RTC LA-306 6-inch belt furnace. This singular furnace is configured with an extra long exit entension adding 30 inches to the product Unload station and to the overall length of the furnace. The furnace chamber includes brand new insulation for 1000C operation, new plenums for CDA, nitrogen or forming gas* operation. The control system is brand new and includes our latest PLC driven discrete digital control system and new motor/encoder. This furnace now features our latest feedforward feedback locking belt speed technology. New electrical system is designed for 208-415 Vac, 3phase.
Manufactured out of aircraft aluminum, the CACT cooling tunnel is also brand new. Perfect for thick film, annealing, solder reflow and dental lab applications. (LCI sn 13008 ev19-101).
Includes bound color manual. Click to view on-line manual and links to video library.
Click for comprehensive technical details & drawings.
Click for video: