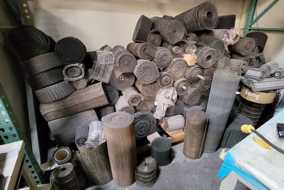 Standard mesh OEM belts for low and high temperature belt furnaces, ovens and dryers in stainless steel and Nichrome-V. Other materials and high mass, dimpled belts, and other optional patterns available.
We have many used belts in stock. Or order a new belt. New belts are manufactured-to-order to match the mass and thermal characteristics of your current belt. All new belts are steam cleaned before shipment.
Priced by linear foot. Prices change frequently. Please call or email belt details for availability and current price.
OEM Belts for Belt Furnaces, Ovens and Dryers
Belt Specification & Measurement - Tech Note TEC-245
Furnace
Typical Belt
BTU International
Lindberg
Radiant Technology (RTC)
SierraTherm
TP Solar
(TPS)
Watkins-Johnson
(W-J)
Custom
Dimpled